You are here
Thimble Blossoms Jigsaw Puzzle for Adults by Camille Roskelley: 1000 Pieces, Dimensions 28" X 20" (Other)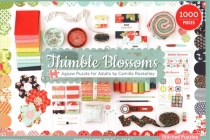 This item is not available from Print: A Bookstore.
Special Order - Subject to Availability
About the Author
---
Camille Roskelley has been sewing since before she can remember, and found her love of quilting early in life. She started her pattern company Thimble Blossoms back in 2007 and began designing fabric with her mother, Bonnie, for Moda in 2008. She has since designed 12 lines of fabric, over 100 patterns, released two books for Stash Books, and teaches Craftsy classes online. She has three little boys at home, loves to waterski with her family, and will never turn down a good chocolate chip cookie.She lives in Las Vegas, NV. Visit her popular website at thimbleblossoms.com.