Print: A Bookstore is proud to be working with Emmy-winning journalist and local author, Elisa Boxer, to offer signed copies of her books!
To receive copies signed by the author, place your order with Print: A Bookstore. In the order comments during check-out, please include who you would like the book signed to. For any questions, reach out to our Children's Manager, Stephanie Heinz, at 207-536-4778 or stephanie@printbookstore.com.
Elisa Boxer is a Maine-based, Emmy-winning journalist and columnist whose work has been featured in The New York Times, Inc. magazine, and Fast Company. She has reported for newspapers, magazines and TV stations, and has a passion for telling stories about people finding the courage to create change. Her first picture book, The Voice That Won the Vote, released in 2020 to coincide with the suffrage centennial. Her second book, A Seat at the Table: The Nancy Pelosi Story, features an interview with the House Speaker herself. Elisa has several more inspirational nonfiction picture books on the way with Sleeping Bear Press, Crown/Penguin Random House, and Abrams. To learn more about her, please go to: http://elisaboxer.com.
A Seat at the Table: The Nancy Pelosi Story
---
This inspiring picture-book biography about Nancy Pelosi shows her journey from the child of Baltimore's mayor to her marble-ceiling-shattering four terms as Speaker of the House, including the historic events of January 6th, 2021.
The Voice That Won the Vote
---
In August of 1920, women's suffrage in America came down to the vote in Tennessee. If the Tennessee legislature approved the 19th amendment it would be ratified, giving all American women the right to vote. The historic moment came down to a single vote and the voter who tipped the scale toward equality did so because of a powerful letter his mother, Febb Burn, had written him urging him to "Vote for suffrage and don't forget to be a good boy." The Voice That Won the Vote is the story of Febb, her son Harry, and the letter than gave all American women a voice.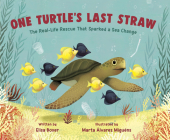 $17.99

ISBN: 9780593372463
Availability: Recently On Our Shelves
Published: Crown Books for Young Readers - May 10th, 2022
---

$17.99

ISBN: 9780593372517
Availability: At Our Partner Warehouse - Usually Ships in 4-8 Business Days
Published: Crown Books for Young Readers - September 7th, 2021
---

$16.99

ISBN: 9781534110496
Availability: At Our Partner Warehouse - Usually Ships in 4-8 Business Days
Published: Sleeping Bear Press - March 15th, 2020
---