Print: A Bookstore is proud to be working with Maine author Elisa Boxer in support of her forthcoming picture books, One Turtle's Last Straw, Splash! , and Covered in Color. All copies will be signed by the author and can be personalized - make sure to include your request in the checkout section! As a special gift, pre-orders from Print will also include an exclusive print or sticker sheet based on an illustration from each book!
Elisa Boxer is a Maine-based, Emmy-winning journalist and columnist whose work has been featured in The New York Times, Inc. magazine, and Fast Company. She has reported for newspapers, magazines and TV stations, and has a passion for telling stories about people finding the courage to create change. Her first picture book, The Voice That Won the Vote, released in 2020 to coincide with the suffrage centennial. Her second book, A Seat at the Table: The Nancy Pelosi Story, features an interview with the House Speaker herself. Elisa has several more inspirational nonfiction picture books on the way with Sleeping Bear Press, Crown/Penguin Random House, and Abrams. To learn more about her, please go to: http://elisaboxer.com.
Her two up-comming books are...
One Turtle's Last Straw: The Real-Life Rescue That Sparked a Sea Change publishing May 10th, 2022 from Crown Books for Young Readers
---
The inspiring true story of how one small turtle and kids all over the country sparked an environmental movement. Based on the viral video that created awareness of the harm caused by plastic straws, this heart-wrenching story is a perfect tool for teaching children about sustainability.

Slurp! A boy finishes his drink and tosses it in the trash, straw and all. He moves on without another thought....

In the waters off of Costa Rica, scientists spot an endangered sea turtle and pull him aboard to study him. But he has something stuck in his nose. A barnacle? A stick? No...it's a plastic straw!

This heroic story of one turtle's rescue reminds us that even the smallest straw can hurt our ocean life--and that the smallest demand for change can grow into something big!

Limited edition, custom prints by Marta Alvarez Miguens, based on an illustration from the book. Each print is 5x7, suitable for framing.
Splash!: Ethelda Bleibtrey Makes Waves of Change publishing July 15th, 2022 from Sleeping Bear Press
---
Ethelda Bleibtrey was a girl with guts who loved the water. As a child with polio in the early 1900s, swimming set her free. The water released her from her pain and helped her build strong muscle--and a powerful spirit. From then on, from the New York beaches to the choppy waters of the 1920 Olympics to the Central Park Reservoir, Ethelda made a splash wherever she went. For Ethelda, doing the right thing sometimes came with a price--change often does--but Ethelda helped make the world better than how she found it. Splash.

Limited edition, sticker sheet illustrated by Elizabeth Baddeley, based on illustrations from the book. Each stick sheet is 4x6.
Covered in Color: Christo and Jeanne-Claude's Fabrics of Freedom publishing August 16th, 2022 from Abrams Books for Young Readers
---
A vibrantly illustrated biography about visionary artist Christo, encouraging creativity, perseverance, and appreciating the beauty all around us
Christo (1935–2020) and Jeanne-Claude (1935–2009) are renowned for their large-scale, ambitious art installations that wrapped landmarks and swaths of land in fabric, including Berlin's Wrapped Reichstag, Paris's The Pont Neuf Wrapped, and concluding with New York City's The Gates in Central Park (2005).

This lively biography chronicles Christo's humble childhood in Soviet-controlled Bulgaria—under a regime that suppressed individuality and creativity—to his international fame as a bold (and controversial) innovator in the art world. Christo discovered an early love of art and found a way to make a living out of his passion by wrapping bottles, cans, stacks of magazines, and even an air conditioner. When he met his wife, Jeanne-Claude, they moved to New York City as undocumented immigrants and became equal partners in both life and work—he, the artist, and she, the dealmaker.

Together, Christo and Jeanne-Claude made elaborate, visually stunning installations that transformed public spaces around the world, all free to the public. Christo never explained why he felt compelled to wrap things in fabric—rather, his work celebrated individual interpretation and the simple joy of seeing something familiar in a new way. And though each work was temporary, their awe-inspiring designs, uniting nature with the manmade, stayed with viewers long afterward. Covered in Color inspires readers to appreciate the beauty around us, however fleeting, and to push the boundaries of "possible."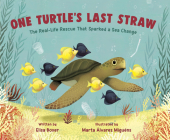 $17.99

ISBN: 9780593372463
Availability: Recently On Our Shelves
Published: Crown Books for Young Readers - May 10th, 2022
---

$17.99

ISBN: 9781534111431
Availability: Available for Pre-Order Now
Published: Sleeping Bear Press - July 15th, 2022
---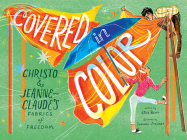 $19.99

ISBN: 9781419756115
Availability: Available for Pre-Order Now
Published: Abrams Books for Young Readers - August 16th, 2022
---